The Snowden family originated in Wales but had settled in Birmingham, England, for a number of years. Knowledgeable in mining and smelting of iron ore, the family must have been part of the "Industrial Revolution" which developed in England. In 1659, at age 19, Richard Snowden Sr. came to Laurel, MD and acquired 400 acres of land. Through industrial, agriculture, and milling interests, the family came to acquire several thousand acres of land through purchases and grants. These holdings ultimately encompassed large portions of 4 counties, including Prince George 's, Anne Arundel, Howard, and Montgomery Counties.
Richard Snowden Sr's home, Birmingham Manor, was built in 1690 and remained in the family for 201 years until it was destroyed by fire. Thomas Snowden, who initially built what later came to be called Montpelier, was born in Birmingham Manor.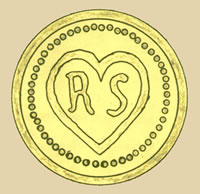 Richard Snowden's
Fireback
Richard, "The Youngest", had two wives and 10 children. His first wife, Elizabeth Jane, was married at age 17, had children at ages 18, 19, 20, and died at 21. Two of Richard's daughters by his first wife married brothers (John and Samuel) in the Thomas family. In 1717, Richard married his second wife, Elizabeth (who was John and Samuel's sister) with whom he had 7 additional children. It is largely the progeny of this Richard which accounts for the large number of Snowden descendants which survive today.
Mary Snowden, the only daughter of Richard and Eliza Snowden, lost her father and mother in 1774, at the age of 4. She was adopted by her uncle, Major Thomas Snowden, and raised to womanhood at his home, Montpelier. It was here that she married John Chew Thomas, but made her home at her inheritance, Fairland. This home, located on Brockridge Rd. near the center of the now Maryland City, MD, was originally built by Richard Snowden for his wife, Eliza Rutland. John Chew Thomas, Mary's husband, graduated from the University of Pennsylvania and was a lawyer by profession. He was elected by the Federal Party of Maryland as a Representative to Congress (1799-1801). He played a crucial role in breaking the long tie in Congress which resulted in the election of Thomas Jefferson and the defeat of Aaron Burr (among the 16 colonies, Jefferson and Burr tied with 8 votes each; see p62 of "An American Saga" for interesting details. The appearance of the Republican Party under Jefferson resulted in the demise of the Federalist Party. In 1788 John Chew Thomas lost his membership in the Society of Friends for his marriage to a nonmember and the offense of slave-holding. After manumitting his slaves in 1810, he and his family were returned to the Society.
Richard Snowden ("Youngest") descendants include individuals in the Snowden, Warfield, Thomas, Hopkins, Flexner, Scheele, and other families, including Keenan, MacSherry.
All descendants of Richard, the "Youngest" and Elizabeth Thomas may trace their family back to Charlemagne (742-814), King of the Franks and Holy Roman Emperor. This line includes William the Conqueror (1027-1087), King of England (crowned 1066), and King John of England (1166-1216), whose conduct was so evil it led to the creation of the Magna Carta to which he was forced to place his signature!