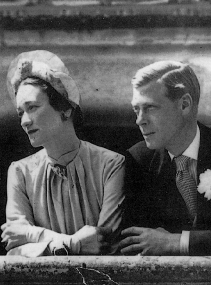 "Maryland lays claim to the loveliest, the wittiest, the most romantic woman of modern times - Wallis Warfield, Duchess of Windsor. For her, a king gave up his throne and the leadership of a great nation, choosing instead matrimony and the quiet life of an exile."
" Maryland : Biographical Sketches - The Duchess of Windsor ":
"At long last," began King Edward VIII of Britain, 'I am able to say a few words of my own.' Millions of fascinated people, all around the world, were listening to his words by radio broadcast, December 10, 1936, from Windsor Castle.
'Until now,' he continued, 'it has not been constitutionally possible for me to speak. A few hours ago I discharged my last duty as King and Emperor. You must believe me when I tell you that I have found it impossible to carry the heavy burden of responsibility, and to discharge my duties as King, as I would wish to do, without the help and support of the woman I love. The other person most nearly concerned has tried up to the last to persuade me to take a different course.'
He was explaining the end of his reign over one-quarter of the earth's population and land-area. Why? There was only one reason: To be married to the woman he loved.
Her name? At christening, she was Bessie Wallis Warfield, but now she was Wallis Warfield Simpson. She had been divorced in 1927, from Lieutenant Earl Spencer of the U.S. Navy. (Their marriage, in 1916, had been an outstanding social event in Baltimore).
She was married again, in 1928, to Ernest A. Simpson, one of London 's social leaders. In the 1930's, she would be divorced from Mr. Simpson.
But all the world loves a lover it seemed. The millions who read newspaper stories were downright curious. This was real-life royal romance, with enough suspense to equal, or surpass, any soap opera plot.
Divorce, however, was the big difficulty of this plot. Britain 's King or Queen is also the head of the Church of England (Anglican or Episcopal). Proud prelates (priests) simply could not accept this stumbling block. Other suggestions offered by Prime Minister Stanley Baldwin came to nothing.
Fifty times, or more, Kings of various countries had given up their crowns. James II and Richard II had been forced out from rule of England. "The Glorious Revolution" was the name given (November 1768) by Protestants to bloodless expulsion of James II, an ardent Roman Catholic. Angry Puritans ("Roundheads") had actually executed their King, Charles I, in 1649.
Yet no British King had ever abdicated voluntarily. Edward, therefore, was making new history as drama was added to romance. The times were perilous. Britain was not well prepared for war; but there were signs that World War II was in the making. Adolph Hitler in Germany, was making threats and grabbing territory for "lebensraum" ("living space").
Fortunately, Prince George was there, ready to take Edward's place as King. He served bravely and well during the following years of war's torment and misery.
In the meantime, Edward became the Duke of Windsor, and waited in Austria. Wallis stayed in Paris, until her divorce decree was final. Then, at last, they were married, June 3, 1937, in the Chateau de Cande. Together, they had years of happiness, especially after he was appointed Governor of the Bahamas, living at Nassau. Amid life in that semi-tropical region, he wrote and published two books: A King's Story: The Memoir of the Duke of Windsor (1951); and A Family Album, mainly about clothes (1960).
Edward wanted to 'do something' at a battlefield, but the Prime Minister vetoed that by saying: 'If I could be certain that they'd kill you, I'd agree, but there's the danger that you'd be taken as a prisoner.'
For Wallis, as a little girl, growing up in Baltimore had been close to 'pride and poverty.' Family connections, and descent? Yes. She was a descendant of distinguished ancestors. The Warfield family was 'one of consequence from the time of the Norman invasion.'
Richard Warfield, founder of the Maryland family, settled on the banks of the Severn River in 1662. Later, other Warfields held important government and business positions.
Wallis Warfield's mother became a widow twice. After the death of her second husband, she and Wallis lived simply in a three-story brick house at 212 East Biddle Street, Baltimore.
Yet there was determination as well as family background. With some 'scrimping and scraping' Wallis studied at fashionable Arundel School, Mount Vernon Place; as a pupil of Madame le Fevre; and at a nationally known "finishing" school --- Oldfields. Then she was introduced to society at Baltimore 's ultra-exclusive Bachelors' Cotillion.
Beyond all that, she possessed personal beauty, poise, and charm. In America and England, she met the "right" people, and it was her uncle, S. Davies Warfield, who introduced her to Edward, then the Prince of Wales.
Like Scheherezade of The Arabian Nights, she could be constantly entertaining and interesting - enough to win and keep the love of a King who became a Duke."
"She made history, just by being herself."
Reprinted from:
Biography from " Maryland Women - 1937" Pages 447 - 451.
"Wallis Warfield, Duchess of Windsor "
Biographical Sketch (pages 211 - 213 and 603 of 1419)